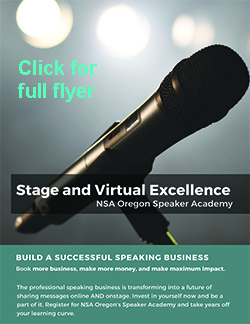 When I signed up for Speaker's Academy I wasn't sure about who would show up. I learned a lot throughout the process, but by far the biggest value is the people I met! The information is fantastic, yes, but the people were fantastic and were worth the investment alone. If you're thinking about adding speaking to your business or advancing your speaking career, you'll get a lot out of Speaker's Academy.
---Liston Witherill, Head of Sales Insights, Serve Don't Sell
The professional speaking business is transforming into a future of sharing messages online AND onstage. Invest in yourself now and be a part of it. Register for NSA Oregon's Speaker Academy and take years off your learning curve.
This 9‐month program provides you with the resources, training and mentorship necessary to be a successful professional speaker, whether you want to get paid to speak or you want to leverage the stage to drive more clients to your existing business.
Dates: Third Saturday of the month, October 2020 thru June 2021
Time: 10 am – 2 pm
Location: Mix of virtual and in person (TBD as pandemic events allow)
What Will You Learn? Sessions include (subject to change):
The Business of Speaking- The Eight Competencies Find Your Audience - Discover Your Voice, Your Tribe, Your Niche

Powerful Narratives - The Art Of Storytelling

Get Their Attention - Developing Your Pitch, Title and Tagline

Landing Initial Gigs - Getting Started with Marketing The Message - Crafting Your Keynote or Presentation Own the Stage - Platform Skills

Leverage Technology for Virtual Platforms

Diversify - Developing Complimentary Products and Multiple Income Streams

NEW FEATURE: scheduled 1:1 evaluation/assessment/goal setting with the Academy Dean
But wait, there's more!
When you enroll in the NSA Oregon Speaker Academy, you get WAY more than just 9 monthly sessions. You also get:
Official one-year Candidate Membership in NSA Oregon ($195 value)

Complimentary program pass to our series of 8 monthly chapter meetings ($312 value) Free admission to special events such as our Holiday Party and President's Gala

Access to all recorded monthly chapter meetings

Access to special chapter sessions such as Speaker Performance Labs, where you can hone your craft in the presence of seasoned speakers; and Path 2 Pro, casual Q&A with other speakers (priceless).
Register today!
Super Early Bird: $1,497 (until August 31, 2020)

Early Bird: $1,697 (until September 30, 2020)

Regular: $1,897 (after September 30, 2020)
Full refund guaranteed through first session.
The Speaker's Academy gave me a 30,000' view of my speaking business. Some of my primary takeaways were learning how to prepare a keynnote, understanding what tech I need for in-person AND web conferencing presentations, and tremendous tools for wordsmithing presentation titles, taglines, and website content. Being in the Speaker's Academy also connects you to the professional members of the Speaker's Association and I've never met a group of people more willing to share their knowledge, time and energy - over and over again.
Here's the key thing to know: The more you put into the Speaker's Academy, the more you'll get out of it. Show up to every class prepared and if you can, attend every monthly NSA presentation (and any other extra-curricular events they offer), and talk to other members. Do those things and your money will be returned to you 10-fold - and in pretty short order. It was an extremely worthwhile investment and I recommend it to anyone who is serious about becoming a professional speaker. And by the way, my speaking business is just as busy post-COVID as it was before COVID.
---Mary Ellen Baker
For more information, contact:
Tara Rolstad
Dean, Speaker Academy
NSA Oregon
503-756-9135
tara@tararolstad.com