PLEASE NOTE:
This is a virtual program for NSA Oregon chapter members only.

The Zoom link is not public and will be sent via email only to members prior to the program. Registration via Zoom will be available up until the start of the program.
The Speaker Performance Lab is a monthly series designed to help NSA Oregon chapter professional and candidate members build their speaking skills and practice and refine performance material. The 2020 – 2021 Labs will be held the fourth Monday of the month starting October 26 through the Spring 2021. You may attend one or all the labs for free.
Each session begins with a presentation from a senior speaker and guest coach specially selected for their performance skills and professionalism. The lab series, this year primarily digital, is designed to be an informal community space place where professional speakers can come to work, develop and practice material and gain helpful, useful support on any aspect of speaking performance.
Questions on Speaker Performance lab: Jan Carothers, 503-516-3519
- - - - - - - - - - - - - - -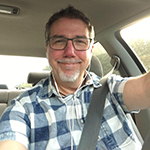 April Topic and Speaker
Presence and Power when Presenting Virtually
Roger Courville, CSP
Just like presenting in person, it's natural to feel a sense of apprehension or nervousness when presenting online. The challenge – besides not being able to see well the people you want to engage with – is that subtle factors can rob you of your sense of presence and power. The good news is that it's not hard, just different – assuming you get beyond "how Zoom works" to address the finer nuances of your speaking environment.
In this Speaker Performance Lab, Roger Courville, CSP, will facilitate an interactive, sometimes crowdsourced, conversation about the little things that can make a big difference, including:
Identifying causes of feeling unnatural that are specific to you

Thinking through some unique psychosocial aspects of presenting online

Practicing a couple of tactics in a safe environment

Walking away with an action plan to mitigate what ails you most
About Roger Courville, CSP
Roger has been called "The Michael Jordan of Virtual Presentations & Classes." He's an award-winning speaker and author who brings evidence-based tactics to transforming boring webinars. His work includes working with organizations as diverse as Colgate-Palmolive, FedEx, Australia Institute of Training and Development, US Bank and, of course, LogMeIn. And he loves habaneros.