NOTE:
This is a virtual program. Instructions on how to log in to Zoom will be sent the day of the event to all registrants. Please test your audio and video capability before joining the meeting.
Retreats to Riches: How to Use Small Events to Drive Big Back End Income and Impact from Your Speaking (Both Live and Virtual)
The speaking industry is shifting in unprecedented ways, with massive uncertainty plaguing "traditional" speaker models that rely on cushy keynote fees and corporate contracts. If you've been affected, perhaps you want another revenue stream to add to your offerings – and even eventually replace some or all of them!
Michelle Villalobos, CSP, has crafted a simple framework to create a "Big Back End" using small events, retreats, and group coaching/mastermind programs (all without adding any cheesy or sleazy sales pitches at the end of your speeches).
In this session, Michelle will share her model — small events and retreats that drive big back-end revenues and big impact, and everything else she can fit into 90 minutes that she had to learn "the hard way."
In this program, you'll:
Discover a 3-part "Big Back End" framework for driving monthly recurring revenues from speaking

See how just 4 (or more) small events (live or virtual) a year can generate an additional 6+ figures in revenue to an established speaking business

Understand why speakers sometimes struggle to sell and fill their own programs and events -- and what you can do differently

Write a draft of your "Retreat Promise Statement" to attract prospects to your program's "juicy outcome"

Discover Michelle's 7 favorite no-cost or low-cost marketing strategies to fill your small events (or any programs!)

Get the "magic sentence" for driving sales from your speeches – without selling from the stage

See examples of successful lifestyle-friendly back end models across a variety of fields and categories, including wellness, marketing, sales training, spiritual evolution, and personal development.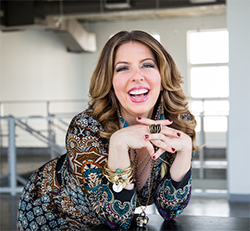 About Michelle Villalobos, CSP
Michelle has been an accomplished speaker for over a decade, with a variety of programs and speeches around personal branding, business alignment, personal empowerment and business growth. She and her team provide retreats, seminars , webinars and resources to help contribution-driven leaders step into brands and business models that create stability, grace, ease and flow. She has delivered these programs for companies like American Express, Bacardi, Burger King, Gibraltar Bank, Lloyd's of London, and Audi.
The Miami Herald named Michelle one of Miami's "Top 20 Under 40" in 2011, and in 2013, she won The Miami Herald Business Plan Challenge for co-founding the Personal Branding self-study program, Make Them BEG. She has been featured on the front page of the Chicago Tribune's Business Section, CNN en Español, Lifetime TV, Forbes Magazine, Fortune Magazine, and more. Michelle also founded "The Women's Success Summit," which was Miami's largest conference for entrepreneurial women for 8 years.
Michelle is in her 6th year as a member of the National Speakers Association (NSA) and is one of relatively few female members of its Million Dollar Speakers Group. She has earned her CSP (Certified Speaking Professional) designation and has been chosen to present to audiences of her esteemed colleagues at the Annual NSA Influence Conference, Winter Conference, several local chapters, and recently co-chaired the NSA Brand Lab.