NOTE:
This is a virtual program. Instructions on how to log in to Zoom will be sent the day of the event to all registrants. Please test your audio and video capability before joining the meeting.
Click HERE for a promotional video from Ed Tate!
How to Write Winning Proposals for Speakers
Speakers are losing tens of thousands of dollars by underpricing themselves. And worse. They make mistakes that kill the deal. In this program, you will:
Learn how to Win 75% + of the deals!

Earn what you are worth and more!

Discern during negotiations, what to take away, when to stay and when to walk away!

Discover a tool that flushes out the real objections to your proposal and what to do about it.

Ascertain the phrase that pays! What to say to learn the actual budget, when they won't tell you.

Ask the "time-saver" questions that will help you rapidly qualify an opportunity and avoid chasing prospects that are not real.

Shed price-shoppers immediately.

Teach your clients and prospects on how to pay your full fee in advance.

Understand how to present your proposal: in-person, online, or on the phone.

Know what to say when:

They ask, "How much?"

"We're a non-profit."

They ask you to cut your fee.

Upgrade the deal and earn triple your fee.

And much more...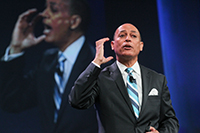 About Ed Tate, CSP
Ed Tate is an award-winning international Keynote speaker, trainer, and author. Worldwide he is known as "The Speaker Who Energizes, Educates and Entertains." To date, he has spoken professionally in 50 states, 25 countries and on five continents.
Using the principles he teaches, Ed Tate won the "American Idol of Public Speaking" and became the 2000 World Champion of Public Speaking - Toastmasters International's most prestigious speaking award among its 352,000+ members. In 2008, Ed earned the Certified Speaking Professional (CSP) designation from the National Speakers Association. It is the speaking profession's international measure of professional platform skill. It is an honor bestowed on less than 12% of its members.
Ed's success in business has spanned more than two decades. For 14 years, he was a successful national account executive selling over $500 million in products and services to corporations and entrepreneurs throughout the United States. Additionally, he co-created two business units that produced over $1.25 billion in revenue.
Since 1998, Ed has been principal of Ed Tate & Associates, LLC, a professional development firm that provides expertise on Winning High-Stakes Presentations.