NOTES:
This is a virtual program. Instructions on how to log in to Zoom will be sent the morning of the event to all registrants. Please test your audio and video capability before joining the meeting.

We also have a new approach to our monthly programs. We'll have two speakers per session for a shorter time frame along with the basic chapter announcements at the beginning of the program.
Fame Awaits: How to Land a Television Appearance
Brenda Buratti
The secret to getting on TV is to understand how television producers think and exactly what they look for. In this interactive presentation get insider advice from Brenda Buratti, an Emmy award-winning media and marketing expert and member of NSA. Brenda has listened to and read thousands of pitches and will share her checklist for getting booked on television.
You'll learn what television people look for, the essential elements you must have, and how to leverage your appearance afterward. You'll understand how to choose what parts of your content appeals to producers and craft a short pitch that positions it as "promotable." Then nail the crucial step in knowing who the real decision makers are and how to reach them. This session will help you determine a strategy for how television appearances can fit into your overall marketing plan.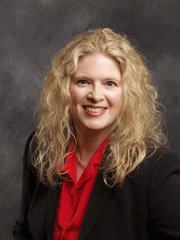 About Brenda
Brenda Buratti lives and breathes using words and images to inspire and motivate people. She's an Emmy award-winning marketing and communication strategist with over 25 years' experience as a media executive and content creator. Her career includes work for PBS, CBS, and NBC television stations, and her executive roles include journalism, product development, and marketing. Listening to thousands of pitches for causes and business ideas have given her the instinct for what connects with people and what fails. She's created marketing and communication plans for brand image and product launches across all messaging platforms from traditional media to social media.
Brenda earned her master's degree in Strategic Communication from the University of Oregon. She has taught marketing and communication in the master's degree programs for the University of Oregon and Oregon Health Sciences University in online and in-person formats. In addition, she lectures in the adult learning program for Portland Community College.
She founded Right Now Communications to help businesses and individuals achieve their goals by focusing on key priorities and winning messaging. She speaks and coaches on time management, effective social media use, and confident speaking and presenting skills.
The Portland Business Journal named Brenda as a Woman of Influence and she's received a lifetime achievement award (Silver Circle) from the National Academy of Television Arts and Sciences/Northwest chapter. Brenda is a member of the National Speakers Association.
What Do You Know That You Can Turn Into An Online Product?
Molly Wendell, CSP
You know who is buying online courses? Your customers. Maybe you've been thinking about creating some type of online product – a course, a membership site, some group coaching. But the time just wasn't right. You weren't ready. Here's the truth. You will never be fully prepared and ready to build an online product. It's the kind of thing you just have to start. But how?

In this session we'll talk about what it takes to build your online product. Most importantly, we'll get you started… so that you can be that much closer to finishing!
And if you don't have an online product to sell, no worries. Your customers will find someone else who does.
About Molly
Molly Wendell, CSP, works with executives and leadership teams to align their vision with their people so they can be better together. With her innate desire for efficiency – and working less to make more – Molly has cracked the code on how to take her content and scale her business through online products. She's been featured on major TV networks including ABC, NBC, CBS, Fox, and WGN. Prior to speaking, she spent many years working for Fortune 500 and Inc. 5000 technology companies running marketing and strategy. Molly holds an MBA from University of California-Irvine, and a BS in marketing from San Diego State University.